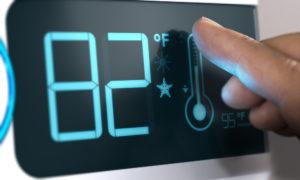 As the seasonal transition from cool to warm temperatures happens, your heating, ventilation, and air conditioning (HVAC) system has to work in new ways to keep your home comfortable. Instead of eliminating the nip in the air, it now has to help you and your family chill out while also reducing the dampness caused by summertime humidity. If your HVAC system is brand new, that may be as simple as flipping a switch and changing your thermostat settings. However, no matter what age your HVAC system is, it's always best to complete regular maintenance and take proper measures to prevent costly repairs and wallet-draining energy costs.
Energy Saving HVAC Tips
Before it's time to blast the A/C, use the following tips to keep your HVAC system running at it's best without forfeiting comfort or cash.
Schedule a checkup: Kick off the cooling season by getting your HVAC system in good shape. Hire a skilled professional to conduct a routine cleaning and assess your furnace and air conditioner for any potential concerns. This is also a good time to ask questions and get tips about how to run your A/C in a efficient way tailored to your home.
Replace air filters: While this is really something that should be done monthly, swapping out an old, dirty furnace filter for a new, clean one is important to do when switching from heating to cooling. It will ensure not only efficient airflow but also reduce allergens in the air at a time when seasonal sneezing is often at its highest.
Upgrade your A/C unit: Replacing your air conditioning unit may seem like a big investment, but if your current model is dated, you may be spending more money on monthly energy bills and needed repairs. When shopping around, look for Energy Star labeled units, and work with a professional or do your research to make sure the unit size is correctly matched to the square footage of your home.
Get a tech-savvy thermostat: Instead of manually adjusting your thermostat as needed, invest in a programmable thermostat, which allows you to to keep the house warmer while you're away, and cooler when you're indoors. Doing so can reduce the time your HVAC system has to run, while at the same time lowering your monthly costs.
Be smarter indoors: To avoid having to run your air conditioner more than needed, keep things cooler inside. Draw the shades midday when the summer sun is at its hottest. Run your dryer and dishwasher in the evening. Power-down heat-generating appliances, such as computers, and avoid using the oven or lights with bulbs that give off warmer temps.
Stay cool: Install and operate ceiling fans to increase your home's comfort level without increasing energy costs as high. Fans work by blowing air onto you, making you feel cooler. However, this wind-chill effect only happens when you're in the room, so turn fans off when you're not around.
Keep the hot air out: Rooms that tend to be warmer in the summer and cooler in the winter than the rest of house may be exposed to a crack or other damage allowing the warm air in. Check for leaks around windows and doors, and apply caulk or weatherstripping to seal it up. If necessary, invest in new windows to reduce energy costs year round.
Help your A/C unit stand alone: Debris and plant life growing around your A/C unit can cause blockages for air to be pulled in. Remove old leaves and cut back weeds and vegetation surrounding the unit to keep air moving freely.
Residential Air Duct Cleaning
One of the best ways we can immediately improve the indoor air quality in our homes is with air duct cleaning and restoration. At Lamunyon Dry Out & Foundation Repair, we use a professional negative air-pressure vacuum collection system that provides thousands of cubic feet per minute of suction! We will remove the debris and contaminants from your air ducts, and ensure that it leaves your home for good.