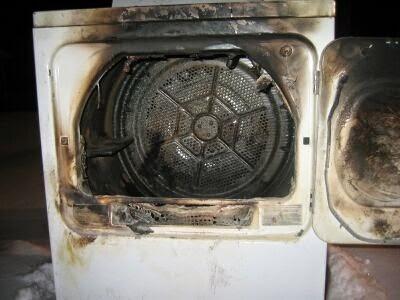 A recent survey showed in a 4 year period 1 in 22 home fires involved either a washing machine or a dryer.  The dryer fires are really fairly easy to prevent with just a few simple steps.  We have them listed below…
Clean out your lint screen Each time you use the dryer.  It's fast and easy.  Think of it as depriving the fire of any food!
Check your vent hose.  Make sure it's in good shape.  Did you know the white plastic hoses have been outlawed?  These aren't safe and need to be replaced.  Use the aluminum type, just make sure the length is as short as possible and don't crush or kink it when you push the machine back.
Clean the vent line regularly.  It's so important this line isn't clogged with lint since it can greatly increase the chance of a dryer fire.  If you cannot clean the line by yourself, call a professional.  Many chimney sweeps offer the service as well as Lamunyon's when we clean your air ducts.  Go to our air duct page to learn more!
Keep the area around the dryer clean.  In the event there is a lint fire, don't provide extra fuel!  Make sure there is nothing around or behind the dryer.
Clean the lint out of the inside of the dryer regularly.  This isn't something particularly easy, so next time the dryer is serviced, have the tech do it for you.  It should be part of the service.
Make sure the gas line is in good shape.  If you have a gas dryer, check the gas line occasionally.  If it looks old or questionable, replace it.  Make sure you don't kink the line when you push the dryer back into position.
The average dryer fire can run around $9000.00.  Don't let such an easily preventable disaster happen to you!  If it does, remember you do have someone to help to get you back to "normal."  Give Lamunyon Dry Out & Foundation Repair a call.  We are available 24/7!