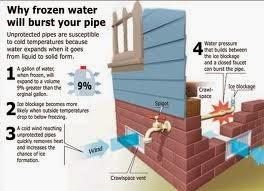 Did you know a burst pipe can cost more than $5,000.00, according to the Insurance Institute for Business and Home Safety?  Every winter, Lamunyon Dry Out & Foundation Repair will get several calls as a result of frozen pipes.  If not the winter, then spring, when we tend to let our guard down.  If this has ever happened to you, you know the mess it can cause as well as the damage!  From pinhole leaks in copper lines to the big split of a PVC pipe, it's a disaster either way.  Are there some easy and preventable things you can do?  
As our photo above shows, there are several factors as to HOW this all can happen. Ironically, the better you insulate the ceiling and the floor, the more you put pipes in those areas at risk.  So what can you do? The easiest thing to do is insulate with foam sleeves.  They slip over pipes easily.  The ones you need to worry about the most include:
Exposed pipes in unheated areas of the home (attic, crawl spaces, garage)
Pipes are located in the exterior walls.
Any plumbing on the exterior of the home.
Tips for preventing pipes from freezing
Drain, disconnect, and store your outside water hose.  Frozen, expanding water puts pressure on the entire plumbing system.
Insulate with foam or fiberglass sleeves.  UL-listed heat tape can also be used to keep the pipes in attics, garages, and outside walls from freezing. 
Take measures before you go on vacation.  Keep your thermostat at 55 degrees, never below.  Also, shut off the water and flush the system by opening your faucets and flushing your toilets.
A simple trick (and no cost!) is to open your cabinet drawers underneath sinks to allow warmer air to reach pipes.
Prevent a furnace breakdown – make sure it's in tip-top shape.  The best time for pipes to freeze is for your furnace to quit in the middle of the night or while you're at work.  Save yourself a TON of money by having preventative furnace maintenance from a professional.
Keep a backup generator to ensure the home temperature won't drop below 32 degrees in case of a power outage.