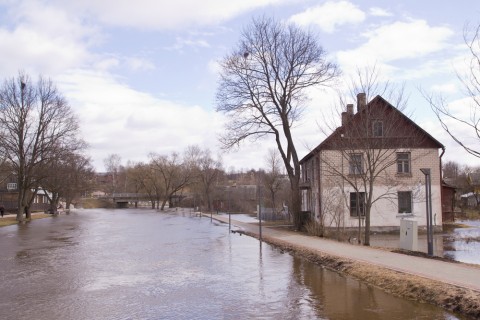 April showers bring May flowers, but that also may bring extra water that can find its way to your basement! Spring is prime time for Mother Nature to pour down, and with the melting snow and ice added to already wet conditions, flooding is common.
Here at Lamunyon Dry Out & Foundation Repair, we're ready to assist with any water damage emergencies that might strike, regardless of how prepared you are for melting snow. There are a few precautions to take in order to keep your basement from turning into a man-made pond this spring – read on for some ideas!
Confirm that your sump pump is working! If you have a sump pump in your basement, make sure it is ready to go before the rain and melting starts! Check the pit for debris. Clean out anything that may cause a back up and not allow the pump to drain properly.
Verify that your downspouts are pointing away from your home. If your downspouts are positioned towards your house, this can cause water to seep in through cracks in the foundation. Make sure all spouts are pointed away from your home and attach an extender if the standard spouts aren't long enough!
Fix leaky pipes or spigots. Do a perimeter check to verify all spigots and outdoor pipes are sealed tightly and ready for use. Any pipes that have cracks should be patched or replaced immediately and spigots repaired quickly.
Cover your basement windows. This is an easy fix that could help keep your basement dry – install covers over your basement window wells to keep water from pooling and eventually soaking into your basement. These are easily installed to still allow light to find the way into your basement but protect your home from water damage.
Clean your gutters. Gutters that are filled with leaves, sticks, mud, dirt, and other debris will not do their job properly. Instead of allowing water to flow freely through and out the downspout, a clogged gutter can cause water to gather in one place. This can cause water leakage under your shingles and into your attic – a place where it may not be discovered until mold and mildew have had time to form!
These are the top five areas to help prevent your home from flooding during the spring months, but if disaster does strike, all isn't lost. While it may feel like the end of the world, water damage can be cleaned and your home can be restored.
At Lamunyon Dry Out & Foundation Repair, we will work quickly to identify the source of the water and fix the issue to ensure it doesn't continue in the same place. Our specialists will then begin the clean up process, removing the water and cleaning any damaged property. From here, we start the full restoration process, bringing your home back to normal.With spring on the horizon, keep an eye out for extra water and take the necessary steps to keep your house dry! Call Lamunyon Dry Out & Foundation Repair if you experience any water damage – we're here 24 hours a day, 7 days a week, ready to help.