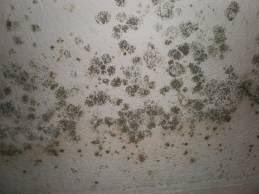 The words "Black Mold" can stir all sorts of scary thoughts.  Some people will not want to do anything, leaving it all to a professional – and that's ok – and then you have others who want to do it all themselves.  Is there a happy medium?  The research I've done on line all seem to have a commonality:  If it's over a 10′ spread, let the professional do it.  (Let's hope it's not let go that long and you have just a small area to do!)
Before you clean:
Have you determined the source of mold and repaired that?  This is going to require a thorough inspection.  Remember, mold needs moisture and a source of organic growth along with proper temperatures.  If you don't fix the leak in the shower, you will be right back at square One in no time!  So, we begin with …
1: The preparation phase
Gather the following items:
Plastic sheets to cover door openings, windows, floors and vents (the plastic needs to be at least 4mm in thickness)
A breathing respirator to cover your nose and mouth with HEPA cartridges.  A dust mask is NOT sufficient to totally filter out the dangerous spores.  You can purchase the respirator and cartridges at most home stores.
Several spray bottles
Paper towels or disposable rags
General ammonia-free household cleaner
Regular chlorine bleach.
Latex or rubber gloves and goggles
A 1-cup measuring cup
Buckets that can hold at least a gallon each
Commercial grade HEPA vacuum.  Do NOT use a home vacuum for this project, it is not designed for this type of work.  If you need to, contact a local health dept. to find out where to rent a HEPA vacuum in your area.
Dehumidifier.  A fan will cause mold spores to be released.                
2:  Mixing phase
Wearing gloves and goggles, mix the household cleaner and water in a bucket and transfer to one of the spray bottles. It's safer to label the bottle as well.
Do the same with your bleach and water (one cup to a gallon) and label that bottle as well.
Pour clean rinse water into a third bottle (no bleach, no cleaner added)
3:  Application and cleaning
Caution:  The bleach solution is irritiating and harmful to the skin, eyes and clothing.  Avoid direct contact with the solution by wearing rubber gloves, respirator and goggles during the entire mixing and cleaning process.
Before you begin:
Seal off the room from the rest of the house with the plastic and tape.
Keep kids and animals OUT during the cleaning process
Do not eat, drink, chew gum/tobacco or smoke at any time during cleaning.
Using a dehumidifier prior to, during and after the clean-up to keep areas dry and prevent mold from reoccurring.
Cleaning:
Start spraying liberal amounts of the bleach solution on the mold.  Wipe the affected area and allow it to set for 15 minutes.  Rinse the area with a damp towel using the clean water from the spray bottle and wipe.  
If you choose to use the household cleaner first, start from the top and work down.  Change towels frequently.  Discard the towels in a plastic bag.  Rinse as described above.
Repeat the above steps until all visible mold is gone.  Note:  There may be some discoloration of the surface from both the mold and the cleaning solution. Take care to avoid damaging the surface by cleaning too hard.
Once Complete:
Once the area you've cleaned is dry to the touch, HEPA vac for at least 1 minute per square foot of affected area.  Dead mold and spores can still be highly allergenic to sensitive individuals, so thorough vacuuming is necessary to remove all mold fragments.  
Place the vacuum bag and all cleaning rags/towels in a garbage bag and dispose of it as you would everyday garbage.  Tie the bag top tight.
Flush the wastewater down a toilet, utility sink or floor drain.
Change out of your cleaning clothes and wash separately from the family laundry.
Wash your face and hands thoroughly.
At this point, you can go ahead and paint once the walls are dry.  Make sure to use water based paint because oil-based ones may encourage mold growth.
Keep in mind that items made of cloth, leather, paper, wood and carpet are best disposed of. Unless they can be cleaned with hot water, they cannot be completely cleaned of mold.  Items that have been wet for more than 2 days need to be taken outside and disposed of.
Contributing sources for this blog came from:  The Centers for Disease Control and Prevention, Department of Health Services, Wisconson.gov;  and www.doityourself.com.