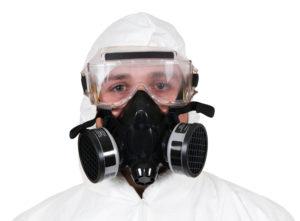 As the stolen Winnebago used by Walter White in AMC's Breaking Bad proves, a meth lab can be set up just about anywhere. And that holds true for your commercial property, be it an office building with unsecured storage space, a for-profit parking lot, or apartments you rent out to tenants.The good new is the number of methamphetamine lab incidents, which include labs, dumpsites, and chemical and glassware seizures tends to be downtrending. According to the United States Drug Enforcement Administration (DEA), incidents for 2014 totaled 9,338, down from the 2013 total of 12,050. While it's hopeful to think this reduction in occurrences means your property is safe, you still need to know how to respond should a run in with a meth lab happen.
Professional Meth Lab Cleaning Protocol
Meth labs are dangerous business, and lead to toxic residues, fumes, and vapors caused by the combination of harmful chemicals. These chemical mixtures can be life threatening and have negative health effects when inhaled, ingested, or absorbed through the skin. Proper handling and cleaning, done only by professionals, is necessary to rid the area of contamination as well as keep you and commercial building occupants safe. Given the serious nature involved in cleaning up a commercial property meth lab, it's best to leave the work to skilled restoration and remediation professionals. They can ensure you the elimination of your contamination while reducing the potential harm to humans and property. Professional meth lab cleaning processes follow extreme health and safety protocols for the inside of your property as well as the outside.   Since meth labs involve so many chemicals, you should NEVER clean this yourself. When it comes to professional meth lab cleanup services, Lamunyon Dry Out & Foundation Repair is dedicated to the health and safety of your family and/or the residents occupying the properties you manage. Call today for a free estimate.