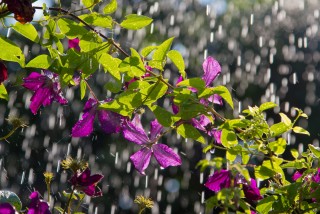 The warmer temps, the more your green thumb may be itching to dig in the dirt. As you work with the flowers, plants, and trees that accent your garden beds, backyard, and home's exterior, remember there's more to landscaping than just growing your curb appeal. 
Properly landscaping the perimeter of your home can help prevent water from leaching into basements and below-grade rooms during periods of increased rainfall or accidental water hazards, such as a neighbor's above-ground pool bursting and flooding onto your property. If you've never taken water damage precautions via landscaping methods to help protect your home, summer is a great time to do so. Use the following tips to plant the seeds of your home's future safety.
Grade your yard. To avoid incoming water, the ground should always slope away from your home in all direction surrounding your perimeter. You'll need to understand the high and low points of your home, and use extra dirt to slope accordingly. Have a plan in place or work with a professional to make sure vents, basement windows, pipes, drains, and other areas aren't negatively impacted during the grading process.  
Choose native plants. Plants that are indigenous to the Midwest can help to prevent soil erosion while also allowing stormwater to drain more efficiently. 
Add mulch. In garden areas graded away from your home, fill with a few inches of mulch to help keep soil in place and hold in rainwater. If mulching near your home, make sure the mulch is at least six inches from your siding to avoid moisture wicking and rotting of your home's exterior.
Plant grass. The root structure of grass can help absorb water. Once it grows in, avoid cutting your lawn too short, which weakens the roots and can lead to flooding in your yard, and possibly your home.
Create a rain garden. Rain gardens are often planted in shallow, landscaped depressions, which helps to collect stormwater as well as water that runs from your gutters and downspouts.
Add drainage areas near driveways. Paved driveways can quickly lead to stormwater runoff, which can increase your home's risk for flooding. Installing a gravel or spaced paver driveway are two options, but for something less expensive, consider adding drainage next to your driveway by way of channel drains, pavers, or other landscaping-based solutions.
Install rain barrels. Rain barrels, which are placed at the bottom of downspouts to collect the water, are a great way to redirect moisture and protect your home from flooding. As an added bonus, rain barrels allow a eco-friendly way to water your gardens and lawn when it's dry out, as well as decrease pollution runoff into lakes and natural waterways.
Check Again
Once you've completed the above list–or if you've already done so in the past–be sure to double check your work each season. Excessive rain, snow, or even draughts can create natural changes to your landscaping. Stay vigilant about where stormwater and groundwater is pooling to best keep your home protected from unnecessary water damage.
Basement Waterproofing in Kansas 
Continue to have basement flooding, even after making changes to your landscaping? This often indicates that no waterproofing system has been installed or the current system is not working correctly. Every basement is different and each situation is unique in that basement floods can be caused by any number of issues. More commonly, this is due to a broken sump pump, cracks in the wall, or impromper yard grading/draining allwoing rainwater or thawed snow to pour through windows or over the top of the foundation.
If you have been having water issues in your home for a long time, there could be serious water damage that will need to be taken care of in addition to the installation of the waterproofing system. Contact us for help with cleaning up the water damage as well as creating a permanent basement waterproofing solution. 
Lamunyon Cleaning and Restoration Services provides services to Manhattan, Clay Center, Salina, Junction City, McPherson, Great Bend, and Topeka, Kansas areas.