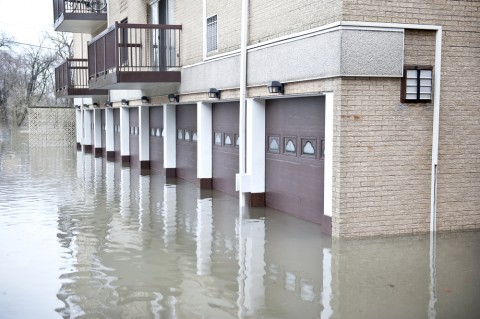 Water damage is one danger of owning a commercial property. It can strike at any time, happening without warning, and be completely devastating to your property. Commercial water damage differs from residential in the way that you are now losing money not only on water damage repair but also on insurance costs, loss of business, and productivity.
Do you have an emergency plan in case of water damage to your commercial building? While water damage can be debilitating, it isn't as bad as it sounds. With a solid restoration plan and a professional restoration company behind you, your commercial property will be back to normal in no time. 
Prevent Commercial Water Damage Before it Starts.
The best way to clean up commercial water damage is to not have it in the first place! While water damage is not preventable, it is at least possible to take precautions against a major loss due to water damage.
​Create an emergency plan that all parties on the premises know and adhere to in case of a water emergency. This includes phone numbers of professional companies to call in case of an emergency, as well as step-by-step directions regarding what to do to contain the damage to one area.
Identify the emergency shut-off for your water. These valves can be in various places within your building. Knowing where they are can mean the difference between a small and large flood. Use them to turn off the water in case of a burst pipe or leak.
When you are looking for companies in the area to assist with clean up, ask questions regarding experience in water restoration, before and after pictures of jobs they've worked on in the past, and references that you can check.
What Causes Commercial Water Damage?
Commercial water damage can happen at any time and to any property. Frozen pipes, leaky roofs, sewage backups, flooding, etc., can all cause major water damage to your property and incredible damage.
​Understanding the cause of commercial flooding is a great way to prevent the issue from happening in your property! Make sure your pipes are set for winter and can withstand harsh conditions if the climate reaches freezing temperatures.
​Look into your drain pipes and gutters and clean them if necessary to prevent backups. Hire a professional to ensure your sewers are in proper working order. A little preventative maintenance can be the difference between a major problem and no problem at all!
At Lamunyon Dry Out & Foundation Repair, we specialize in assisting commercial property owners with their cleanup and restoration needs from water damage. We also offer our Priority Response Emergency Program to all commercial properties and businesses. As part of this program, our staff perform site visits to become familiar with the property. In the unfortunate event of water damage, our team is able to respond quickly and efficiently to any emergency property damage or disaster the business or building experiences. 
Call us today for more information and to join our Priority Response Emergency Program for commercial property owners.