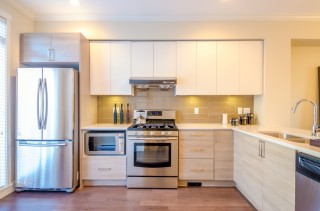 When we think of water damage affecting our homes, we don't often think of it coming from the kitchen. Most of the time, we tend to focus on water proofing our basements and roofs, however, the kitchen is one area of our homes that can't afford to be ignored when it comes to water damage. Here are five tips to help prevent water damage from ruining your kitchen and potentially other areas of your home.
What Causes Kitchen Water Damage?
​Typically, water damage is caused by three main sources. While water damage can come from other areas of the room, these are the primary locations to keep a close eye on. Water damage tends to originate in the following places:
The refrigerator
The sink and countertop
The dishwasher
There are different warning signs to watch for in each of these instances to help prevent any sort of water damage.  
1. Preventing Water Damage From Refrigerators 
​We use our refrigerators constantly, and while we clean them on a regular basis, checking behind the refrigerator is not something we make part of our normal cleaning routine. To help prevent water damage from the refrigerator, it is a good idea to check behind the appliance several times a year.
Be on the lookout for condensation on the coils, or even standing water on the floor. You may also notice mold growth, which means it's time to bring in a professional mold remediation team like Lamunyon Dry Out & Foundation Repair to help get rid of the problem.
In addition to checking for water and mold, make sure the hose from your ice-maker to the water supply is sealed tightly and has no leaks.
2. Preventing Water Damage from Sinks and Countertops
​Sinks are built to take on water, and countertops are expected to see their fair share of water as well, however – water can sometimes seep under the countertops and under the sinks, getting trapped and causing water damage.
Checking under the sink on a regular basis to look for any steady leaks and drips will help rule out any drainage problems.
Countertops should be examined for missing grout and cracks, which should be quickly repaired to prevent trapped water and eventual growth of mold or mildew
3. Preventing Water Damage from Dishwashers
​Dishwashers are installed to make life easier, but a blocked dishwasher just brings headaches and problems into a home. Watch your dishwasher and make sure it is draining properly and emptying fully. If you notice standing water, this can be the cause of a blocked filter that should be cleaned and unblocked immediately to prevent water backup.
Like a refrigerator's ice maker, a dishwasher has hoses that connect the water supply to the appliance. Check these hoses for leaks and drips, making sure that they are connected and sealed tightly. If you notice any water, bring in a professional plumber to help repair the dishwasher before the problem increases. 
4. Preventing Water Damage from Small Appliances 
In addition to larger appliances like the refrigerator and dishwasher, a kitchen also has smaller appliances that can cause water damage if left unmaintained. These smaller appliances include small wine fridges, extra freezers, and the garbage disposal.
Any appliance that is meant to keep food or drinks cool will typically have cooling coils behind the unit. Just like standard size refrigerator, checking behind these appliances for puddles and leaks will help prevent larger issues down the line.
5. Preventing Water Damage with Regular Maintenance  
​The tips above review different ways to check that your appliances will not cause major water damage. However, there are other small, every day, things you can do to prevent water damage from occurring in your kitchen. These include:
Watch for clogged drains and unclog as quickly as possible to prevent leaks and overflows.
Clean out your garbage disposal regularly.
Always dry surfaces after cleaning to prevent mold growth.
Make sure that your exhaust fan is in proper working order and use it to maintain regular humidity levels in your kitchen.
​Call Lamunyon Dry Out & Foundation Repair​
​If you notice that water damage has occurred in your kitchen or other areas in your home, the professional team at Lamunyon Dry Out & Foundation Repair can help. Since 1973, we've assisted residential homes and businesses in Kansas with their water and mold damage issues.We are expertly trained and ready to go at a moment's notice – we understand that water damage doesn't always happen at the most convenient times. We have an emergency crew ready to go 24 hours a day, 7 days a week. Call us today