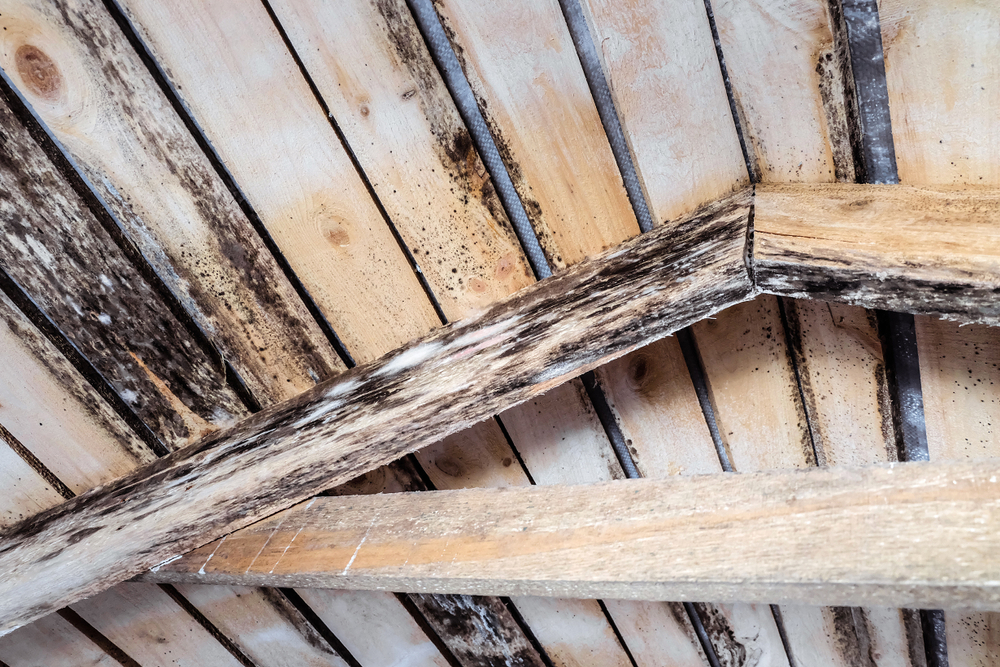 Mold anywhere in your home shouldn't be ignored. Attic mold is no exception to this rule, regardless of how long it goes unnoticed. Attic mold, even in an unused place such as your attic, can cause health issues to those living in your home if the mold is left untreated. Calling in a professional mold removal company like Lamunyon Dry Out & Foundation Repair is your best option. 
What Causes Mold Growth?
Mold growth is caused by excess moisture and requires two things to grow: moisture and nutrients. Leaks from a roof, plumbing, windows, or even extra humidity in the air can cause mold to start growing in your attic.
Attics are common areas of mold growth as they tend to have the perfect conditions that mold loves – dark and damp, and undisturbed – sometimes for years! Mold may not be spotted until it becomes a large problem, or until the cause of the mold (like a roof leak) becomes a problem in the main area of the home – and has potentially caused structural problems.
What to Watch for with Attic Mold
Attic mold can be treated by a professional mold removal company! That's the good news. Lamunyon Dry Out & Foundation Repair has a specialized team to handle any mold and water damage happening in your home. Here's what to look for to know when to call us:
Dark black staining on wood surfaces. Check your attic frequently for any discoloration in the wood. If you notice black stains, this could mean the issue has moved from regular moisture and instead is headed into mold territory and requires a mold removal company. 
You've noticed a musty smell. Mold thrives on moisture, and moisture can make a home smell musty. Think about a hot and humid area with little ventilation – the moisture will build up and begin to emit a musty smell that you may notice through your home. This is an indicator that mold may be present. 
There is frost buildup under the roof sheathing in winter. When the weather cools down, water vapor in the attic can freeze under your roof if proper ventilation is not present. 
Insulation is wet. Have you noticed wet insulation in the attic? This can be a sign of mold on the horizon, but also a leak in your home. 
Call Lamunyon Dry Out & Foundation Repair Today!
At Lamunyon Dry Out & Foundation Repair, we have a team that specializes in testing, inspecting, and remediating the mold problem regardless of location. Our response team is ready 24/7 for emergency services, and you can call with confidence knowing that we've been locally owned and operated since 1973. 
Call us today at 888-609-9670, or visit our website for more information today.