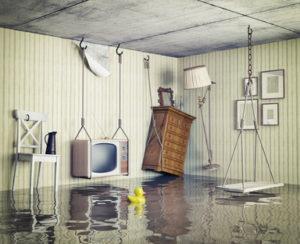 A flooded house is something every homeowner dreads. It can be very expensive, with irreparable damage to important possessions and a giant headache. The stress that a flood can bring can be overwhelming, to say the least, especially if you aren't exactly sure how to respond right away. Here are the first basic things you should do if this happens to you.
Take Safety Precautions: Before doing anything in your home, it is critical that you ensure the safety of yourself and others. Contact a professional water restoration company to make sure the flood didn't bring in anything hazardous to your health and that it didn't damage the structural integrity of your home at all. After you are given permission to enter your property for cleanup purposes, you will want to use the proper protective equipment for the job. Use long rubber gloves when cleaning and documenting the damage, and wear a surgical mask as well to prevent the inhalation of anything hazardous to your health. If the flood water has any sewage contamination, do NOT try to handle it on your own, as this can be extremely dangerous.
Take Pictures: This is a very important process step and should be done as soon as possible. Before you start cleaning anything, make sure to take the time to meticulously document all the damage that occurred in the flood. This will save you a lot of headaches in dealing with your insurance company. It's tempting to just go in and start cleaning immediately, but take the time to document all the damage first. You will be very grateful that you did in the long run.
Remove Water: Once you know it is safe and everything has been documented, then it is time to get to work! The first thing to do is to eliminate all the excess water. Water damage and mold growth can happen really fast with stagnant water. Mold only takes 24-48 hours to start growing. Call in a professional water extraction team to make sure that all of the water is removed and that everything is dried properly. With floods, it is not recommended to try to extract and dry water on your own, as most drying takes a long time without the use of proper drying equipment. 
Mitigate Mold Damage: If mold does begin to grow as a result of a flood, it can sometimes become worse than the flood itself. Mold can damage structures, cause health problems, and is just plain gross! The potential for mold growth greatly increases the longer accumulated water sits. So, it is important and crucial to get rid of the extra water as soon as possible. 
Involve a Qualified Cleaning and Restoration Company: You should waste no time in contacting the professionals if a flood does occur in your home. The certified and professional team at Lamunyon Dry Out & Foundation Repair in Hutchinson, Kansas, is experienced and qualified to help you with the flood recovery process in all types of situations. Our job is to handle all the dirty work and you can just worry about getting your life back to normal, and we will answer your call 24/7. Don't wait when it comes to standing flood water.