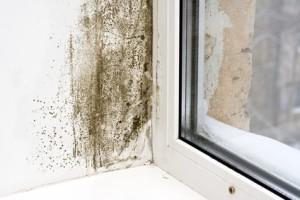 Mold is preventable. Knowing the facts can make all the difference.
Humidity in your home should be no higher than 50% to prevent mold growth. An air conditioner or dehumidifier will help with this.
Exhaust fans in kitchen and bathrooms will help decrease moisture through proper ventilation.
Use paint with mold inhibitors in areas that may be prone to mold including bathrooms, kitchens and basements.
Clean bathrooms regularly.
Avoid using carpet in bathrooms as it holds moisture. Regularly wash bathroom rugs.
Mold can begin to grow within 24-48 hours of water damage. Always dry water damage immediately and completely, using the help of a water damage cleanup company when necessary.
Who Should Cleanup Mold?
If you have mold in your Manhattan home, determining who should perform cleanup depends on several factors. What is the size of your mold problem? A little bit of mold in your shower is something homeowners can easily tackle on their own. Frequent maintenance with bleach and water can do the trick. For mold removal that cover less than 10 square feet, chances are you can handle the cleanup yourself. If you are developing a more severe mold problem you will most likely not only be able to see it, but also smell it. If you've ever walked into a room with a musty odor, chances are what you smell is mold. Keep in mind, sometimes you will not be able to see mold. It may be hidden on the back of the wallpaper, tile, drywall or even underneath the carpet. When hiring a mold removal professional to do the cleanup, it is important that you are dealing with someone who is trained in this type of cleanup. The restoration professionals at Lamunyon Dry Out & Foundation Repair will ensure that the affected area is dealt with professionally and thoroughly.
Health Risks of Mold
Mold does have the potential to cause health problems. If you're experiencing health problems or symptoms from mold in your home, it is wise to get it removed. The most common reactions to mold are allergic ones. Allergic reactions include hay-fever like symptoms such as sneezing, runny nose, itchy eyes and a possible skin rash. These reactions are similar to those many experience in the spring due to the increase of pollen in the air. Some people have little or no reaction while others have severe reactions. Molds can also cause asthma attacks in people with asthma. It is also suggested that other illnesses can develop as a result of mold including dizziness, headaches, fatigue, memory loss and other problems.
The CDC says a link between toxic mold and these conditions has not been proven, but research on mold and health risks continues. When it doubt, it is best to avoid mold exposure and have it removed from your home. If you have a mold problem in your Manhattan home, Lamunyon Dry Out & Foundation Repair can help. We can find hidden areas of mold growth, remove existing mold, and take measures to prevent mold growth from recurring. Call Lamunyon Dry Out & Foundation Repair today.