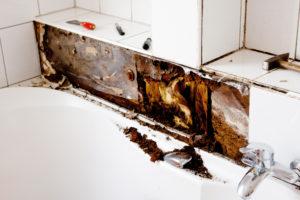 If mold is something you more commonly associate with food that's hung out in the fridge for too long, then any commercial buildings you own or manage could be in danger. Sticking with the refrigerator analogy for a moment, the fuzzy stuff is attracted to forgotten leftovers because the food is an organic substance on which to grow. Close the refrigerator door, which reduces airflow and causes the humidity to go up, and it's a perfect breeding ground for mold. 
However, because mold can grow on just about any organic surface where moisture and oxygen are readily available, the interior of your commercial buildings is not all that different from your home refrigerator. Add to the matter that spores are invisible to the human eye but make their way from outdoors to indoors with ease, and you could have a mold problem growing without even knowing.
Why You Should Prevent Mold in Commercial Buildings
Exposure to indoor mold comes with a variety of health issues and allergic reactions. Those most affected by mold growth and present mold spores are people with allergies, asthma, or weakened immune systems. But that doesn't mean people who aren't sensitive can't become so with prolonged mold exposure. People living or working in moldy conditions may start out with symptoms such as irritated skin, nasal congestion, itchy eyes, or difficulty breathing. If the exposure continues or increases in severity, reactions could worsen to include upper respiratory infections, chronic lung illness, and chest inflammation, according to the CDC.
How to Prevent Mold in Commercial Buildings
Eliminate the health risks associated with mixing mold and human contact by following these tips to prevent mold from growing inside your commercial buildings.
Stay vigilant: Mold can be sneaky, growing in places you may never have thought. Create a routine inspection plan, specifically searching for signs of mold or where mold might grow: damp surfaces, high moisture areas, spotty or fuzzy stains on walls, floors, and carpeting, and musty smells. If you employ janitorial staff or contract this work out, request to be notified of any moldy areas or areas where mold could grow.
Make repairs: Cracked foundations, leaky roofs, and unsealed windows and door frames are all problems ripe for causing mold to grow. Repair building issues as soon as they occur, and always try to catch leaks and water damage before the wetness can lead to a moldy disaster.
Decrease moisture: The climate or geographic location in which your commercial building resides may mean humidity is always at a high. Since damp air makes it easy for mold to grow, consider installing dehumidifiers, or running smaller units in basements, attics, and such to help keep things dry.
Clean at the core: Your building's heating, ventilation, and air conditioning (HVAC) can increase the blowing around of mold spores. While it may not be 100 percent stoppable, you can reduce the transfer of spores by making sure the HVAC system and ducts are regularly cleaned and maintenanced.
Bring in a pro: Every commercial building's needs are different, so sometimes to effectively prevent mold from growing, you need a mold remediation specialist, such as Lamunyon Dry Out & Foundation Repair, to custom tailor a plan to fit your structure. Working with a mold remediation specialist can help ensure that any existing problems are responded to quickly and that moving ahead, you'll stay free and clear of mold-related damage and health concerns.
Mold Removal and Commercial HVAC Cleaning with Lamunyon Dry Out & Foundation Repair of Kansas
Mold Removal Services From Lamunyon Dry Out & Foundation Repair
There are certain steps that should be followed regardless of the size or nature of the mold growth. First and foremost is to find the source of moisture, and remove the moisture. Then, based upon the amount of mold growth and other factors such as building materials, building occupants, etc. the remediation scope can be determined. The EPA has put together the following list of questions:
Are there existing moisture problems in the building?
Have building materials been wet more than 48 hours?
Are there hidden sources of water or is the humidity too high (high enough to cause condensation)?
Are building occupants reporting musty or moldy odors?
Are building occupants reporting health problems?
Are building materials or furnishings visibly damaged?
Has maintenance been delayed or the maintenance plan been altered?
Has the building been recently remodeled or has the building use changed?
Is consultation with medical or health professionals indicated?
For safe and effective treatment of mold, call the professionals at Lamunyon. We're happy to answer your questions about mold and how we treat it, keeping your environment safe.
Call Lamunyon for Commercial Air Duct Cleaning Services
For commercial heating and air conditioning duct cleaning in Kansas, look no further than Lamunyon Dry Out & Foundation Repair. We are the indoor air quality experts. Our goal is to improve indoor air quality (IAQ) and help Kansans breathe better. Our experience working with local schools, daycare's, hospitals and similar medical care facilities, as well as, office buildings and more highlight our long-standing reputation of a job well done! Together, we can make your indoor environment a healthier, more productive place to be!