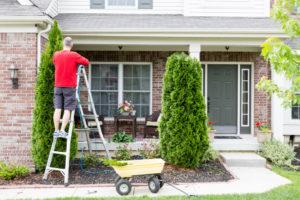 Labor Day may not be the first official day of fall, but for many it feels likes the unofficial end to summer. While warm days are sure to follow the holiday weekend, they are certainly numbered.
Before long the air will turn crisp, the leaves will fall, and snow will be in future forecasts.
Take advantage of good weather while it's here to not only up your home value and curb appeal but also create a comfortable and safe environment during the colder, brisker temps ahead.    
Home Projects to Do Before Labor Day
Check the roof: Heavy snow can prove a heavy burden on a roof that isn't in tip-top shape. Inspect your roof for holes, loose shingles, or areas that could lead to leaks and ice damming this winter. If you aren't doing the work yourself, hiring a roofing contractor while the weather is still warm will be easier, and likely less expensive, than waiting until the dead of winter.
Add insulation: Good for your home no matter what the weather, proper insulation can make your interior more comfortable and energy bills less expensive. If your house typically feels drafty and cold in the winter, or you've noticed your heating and cooling bills creeping up in cost, consider having your  insulation increased in the attic, exterior walls, ducts, crawl space, and basement.
Seal any cracks: Avoid warm air from getting out and cold air from getting in by caulking around window and door frames. Your house will stay warmer when it gets cold out without spiking your energy bill.
Add weatherstripping: Another way to decrease your utility bills while increasing the comfort of your home's interior is by adding weatherstripping. For areas around doors or windows where caulk can't cut back the the air getting in and out, install weatherstripping to ensure a tight, sealed fit.
Paint the exterior: Cold, wet weather and paint don't mix, which means if your home's exterior siding, windows, or doors need a fresh coat, getting it done while the weather's still warm is a must. While it may seem like a chore done for purely aesthetic purposes, painting can extend the life of your exterior, prevent termite damage, and decrease the harshness of winter.
Trim trees and bushes: Reduce the amount of leaves you'll need to rake while also keeping your home's exterior free from debris and branch-related damage by cutting back trees, bushes, and shrubs growing near your home. Pruners and shears can help you tackle smaller projects, while professionals may be needed for tall trees or when trimming around power lines.
Summertime is counting down, so get started now on these must-do home improvement projects. Fall is around the corner, and with it comes it's own list of seasonal to-dos. Crossing off a few projects now can keep you from feeling overwhelmed–or worse, skipping necessary projects–later.  
Get a complete Home Energy Evaluation from Lamunyon Dry Out & Foundation Repair for your home today
If you're ready to do something about the uncomfortable rooms and high heating and cooling costs in your home, Lamunyon is here to help! Our complete home energy evaluation will identify the areas of your home that are causing discomfort and energy loss, allowing us to recommend the ideal solutions.
Our experienced professionals know what it takes to give you a more comfortable, efficient home!
Contact Lamunyon Dry Out & Foundation Repair today to get quality attic insulation and air sealing!
If you're interested in attic insulation and air sealing services to make your home more comfortable and efficient, Lamunyon Dry Out & Foundation Repair can help. Our system is proven to fix energy problems and help you save money and enjoy consistent, comfortable temperatures throughout the home. Give us a call today to learn more about how we can help you!