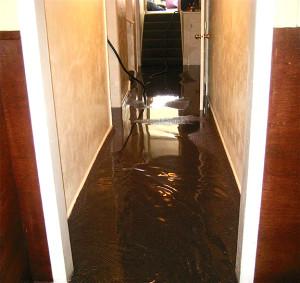 McPherson is in for a wet winter in the new few months, with rain and snowstorms moving in and temperatures dropping below freezing moving into December. Wet, cold weather conditions call for additional precautions when it comes to preparing your commercial property for the winter to avoid any water damage that may occur in your commercial establishment. Water damage can happen in a variety of ways around a commercial establishment throughout the year but is most common in the winter due to frozen pipes that can expand or burst with expanding ice or due to improperly coupled joints in the pipes that rupture due to the continuous expansion and contraction of freezing and thawing. Both problems can cause significant water damage, especially if the frozen pipes occur over a weekend or holiday.
Tips for Avoiding Commercial Water Damage
1. Before temperatures drop, remember to empty all hoses, external faucets, pools, sprinkler lines, and anything else that is at risk of freezing.
2. Have your pipes carefully inspected to make sure there are no leaky pipes, and consider investing in small, portable space heaters to make sure pipes in cool stay above freezing temperatures. It's important to let heat circulate to as many pipes as possible to avoid any damage during the winter.
3. If space heaters are not available or in the budget, try to keep doors open throughout the establishment to allow warm air to heat cooler areas of the building.
4. Routinely check relatively unnoticed areas for mold growth and water damage, which can help you identify areas where you may have a leaking pipe that has gone unnoticed.
5. Remember to check for roof leaks. They are the main source of water damage and are the most common in areas where freezing weather, severe wind, and hail/rain storms are frequent.
6. When water damage is found, immediately begin the restoration process to avoid further damage and expenses.
Professional Water Damage Cleanup
Lamunyon Dry Out & Foundation Repair in McPherson has all the training, equipment, and experience needed to take care of water damage in a commercial establishment. We train all our employees at professional schools and "in-house" to ensure the best cleaning and restoration to help businesses and households throughout North Central Kansas. 
We also have hundreds of air movers and dehumidifiers at the ready to make sure we can help get your business back up and running in no time with little hassle on your part after a water intrusion. Our goal is to help you avoid water damage in your business and ultimately fix any damage you might have already found or may find in the future. For any questions, contact our McPherson office at 620-718-6058.