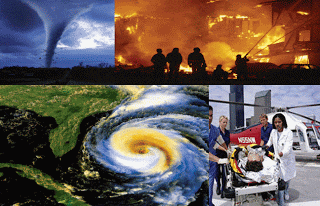 Employees may not be together when disaster strikes, so it's important to know how you will contact one another, how you will get back together and what you will do in case of an emergency.
Does each employee have an out-of-town contact listed with the designated company coordinator?  It may be easier to make a long-distance call than to call across town, so an out-of-town contact may be in a better position to communicate among separated family members.
Identify places where co-workers will meet, both within and outside of your company's immediate area.
Designate an emergency contact person in your work group.  Be sure every member of your group knows the contact person's number and has either a pre-paid phone card or cell phone to call the emergency contact.  
If employees have cell phones, program the emergency coordinator's phone number as an "ICE" (In Case of Emergency) in their phones.  If the employee is in an accident, emergency personnel will often check your ICE listings in order to get a hold of someone you know.  Make sure to tell family and friends if they are listed as contacts.
Review availability of emergency supplies such as water and batteries.  It's important to drink clean water that is not contaminated or infected.  Consider appointing one of the member's of your work group the person responsible for stocking supplies.
Inquire about emergency plans at places where your family spends time (i.e., daycare, school).  If there is no plan, consider volunteering to help create one.  Notify caregivers and babysitters about your plan – and don't forget to make plans for pets.
To be successful, emergency management requires upper management support.  The Chief Executive sets the tone by authorizing planning to take place and directing senior management to get involved.  In being proactive it will:
Help companies fulfill their moral responsibility to protect employees, the community and the environment.
It facilitates compliance with regulatory requirements of Federal, State and local agencies.
It enhances a company's ability to recover from any losses, whether it be financial, regulatory, loss of market share or damages to equipment or business interruption due to the emergency.
It reduces exposure to civil or criminal liability in the event of an incident.
It enhances a company's image and credibility with employees, Customerss, suppliers and the community.
It may reduce company insurance premiums.
While no one likes to think of an emergency affecting their neighborhood or community, it is smart to plan ahead and avoid unnecessary anxiety and stress!