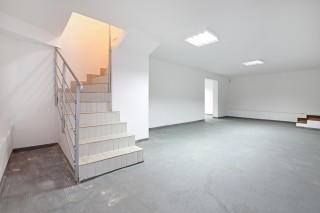 Your basement is ground zero for flooding and water damage. Mold, leaks, and cracks in the foundations are red flags that must be treated to keep water damage to a minimum. The possibility of these problems is enough to answer a common question that we get at Lamunyon Dry Out & Foundation Repair: "Is Waterproofing My Basement Necessary?" 
Waterproof to Prevent Flooding
​No one wants a flooded basement. Flooding is a very real problem in Kansas, and Lamunyon Dry Out & Foundation Repair has been assisting homeowners with their waterproofing needs since 1973. It only takes one summer storm and a cracked foundation to have water seeping into your basement, causing major water damage, that can ultimately lead to costly home repairs.
Waterproofing will lead to reduced chances of flooding. At Lamunyon Dry Out & Foundation Repair, our specialists will identify the problem areas and fix the damage before putting preventative measures in place.
Once we've identified the problem areas, we will do any necessary clean up including mold and mildew removal and restoration. 
How We Protect Your Basement from Water Damage 
Every basement is different, which means each waterproofing job will vary as well. Most common causes of basement flooding include:
Cracks in basement walls
Broken sump pumps
Yards that are not draining properly
Breaks in the foundation
Water seeping into the basement may rush in quickly or occur slowly and steadily depending on the type of damage sustained.
When we begin to waterproof your basement, we will look at the above issues and start our fixes!
What We Will Do
Check that groundwater is not able to seep into your basement. Is your basement floor protected below the concrete? If not, a pressure relief system will help open the floor around the perimeter of the basement, allowing for proper drainage.
Install a correctly sized sump pump. Sump pumps are necessary when you experience consistent flooding. Choosing the right size sump pump and having it installed properly will remove excess water from your basement and move it away from your home.
Repair any visible cracks. Any cracks that appear in basement walls, floors, or the foundation will be filled and repaired to keep water out!
Review landscaping and make sure all drains are pointing away from the home. A fast review of your yard and downspouts/gutters will paint a picture of where water is draining as it arrives. If water is headed towards the home instead of away, a reroute is necessary. 
Monitor Changes for Water Damage
Once your basement is waterproofed and protected against flooding, it becomes a waiting game. It is important to watch closely for any signs of water, guaranteeing that your basement is safe from flooding!
At Lamunyon Dry Out & Foundation Repair, we don't only do the waterproofing ourselves, but will also clean up any existing problems caused by existing water damage before we start.Call us for more information and to schedule an appointment today.