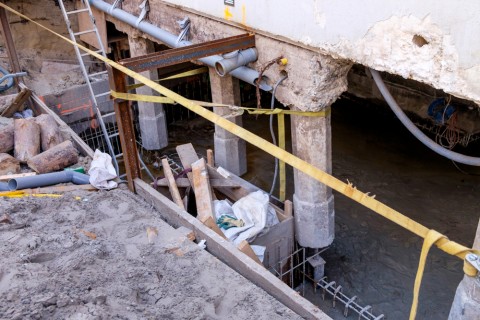 Foundation repair is an incredibly involved process that requires the help of a professional foundation repair company. Small cracks may not be a large concern when you first notice them, but as time goes on, they can expand and eventually cause leaks in your basement, bowing, or even buckling of the concrete.
If you notice cracks of any size on your home foundation, it's time to call in the professional contractors of Lamunyon Dry Out & Foundation Repair. We will identify the issue and not only repair the problem, but will walk you through our process.
What to Expect During Your Foundation Repair
 "Foundation damage" can be a scary phrase for homeowners. It conjures up ideas of long and costly repair processes that's not an easy task for everyone to understand. Experiencing a foundation problem is not something that comes on quickly, and unfortunately, no home is completely safe from foundation damage.
Here are a few signs of potential foundation issues.
1.Doors and windows are misaligned
2.Uneven floors or staircases
3.Door or windows that won't open or fully close
4.Visible cracks in drywall
5.Gaps between the ceiling and walls
6.Cracks in exterior concrete
7.Or signs of basement flooding
This is not a complete list of all issues that could potentially be a sign of foundation issues, but this list will help you identify a problem before it becomes a larger issue.
When you call in a professional to inspect these issues, the contractor will fully inspect the problem and the rest of the foundation of your home. They will determine the overall issue and put together an action plan for the repair of your home foundation. 
Typical Steps During a Foundation Repair Using Piers
1.The foundation will be excavated to expose the footing in all areas needing piers installed.
2.The footing will be prepped for the pier bracket to be installed so that it supports directly under the foundation wall.
3.Once all pier brackets are in place, a hydraulic ram will be used to push pins to refusal. What this means is steel push pins will be pushed into the ground until stable soils or bedrock has been hit.
4.Once all the pins have been pushed and the pier brackets have been capped off, hydraulic cylinders are attached to each bracket for lifting.
5.When lifting a home there are other things to take into consideration such as, A/C units, plumbing, and electrical penetrations. Some of these things may need to be disconnected until the lift is complete to avoid any damage.
6.During the lifting process, a laser level is set up in the basement. This laser line ensures proper lifting.
7.After the lift is complete the pier brackets will be tightened and ready for inspection if it is required in your area.
8.The final step of the pier process is the back fill. There will be a need for a landscaper and possibly a contractor for drywall repairs or door adjustments.
Pier installation is the most invasive foundation repair performed by far, but there are other less invasive repairs that can be made depending on the foundation issue you are having. For a free foundation evaluation in the Topeka, Manhattan, and Wichita areas contact Lamunyon Dry Out & Foundation Repair our professional team is ready to help identify, and fix your foundation problems.