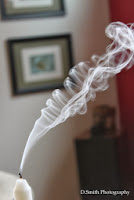 A very common problem in most homes is the residual left by burning candles.  The smoke put off by the wicks can go into your heating and air system and stick to the walls too!  One lady we cleaned for realized how bad the problem had become when she went to move pictures on the wall…and could see where every picture had been!  The walls were actually a different shade behind the pictures.  So how do you go about removing it?
Steps To Remove Candle Smoke Stains On Walls
If you want the candle soot on the walls in your home to be cleared out, we have the perfect solution for you. Follow this process below. 
STEP 1: Avoid Wet Cleaning Or Dry Sponges
First of all, DO NOT WET CLEAN.  Several self-help sites have recommended TSP, Windex, etc.  Many times though, and especially if you have flat paint on the walls, this help to "set" the smoke, and you will never get it off.  Some homeowners have used dry cleaning sponges (like Mr. Clean) with some success, but not all.
Step 2: Get Chem Sponges (Latex Rubber Sponges)
What we use at Lamunyon Dry Out & Foundation Repair are known as "chem sponges."  It's a misleading name because there are no chemicals involved.  They are simply latex rubber sponges.  When they are wiped over the wall, the static electricity created pulls the soot from the wall to the sponge.  Many a homeowner has looked in shocked disbelief to see a black line of soot show up from a wall that 'didn't really look that bad!'
So where do you get them, and how do you use them?  There are several sites online that sell these.  Just Google 'latex rubber sponges.'  
Step 3: Begin Wiping Top To Bottom Across Ceilings and Walls
As for use, you should begin on the ceiling since debris will drop down. Then move to the wall, again, beginning at the top and working to the bottom using straight, parallel strokes that overlap slightly. Be forewarned; this can be very strenuous work! 
Step 4: In Cases Of Wet Cleaning – Cover Up With Paint
If you HAD tried to wet clean and found it didn't work, unfortunately, the only solution is Paint.  A good sealer will seal in the dark color and keep it from bleeding through your new paint, then at least 2 coats of the new.  
Get Professional Help To Remove Candle Smoke From Walls: Lamunyon Dry Out & Foundation Repair 
Of course, you could also opt to have professionals come in and do all the work for you.  They will conduct an initial inspection to see how far the damage has gone, what rooms it's found in, etc.  Then they will set up ladders and/or scaffolding to start cleaning the ceilings, fixtures, then walls, and usually contents.  Be aware, too, that the soot can leave a greasy feel to objects and structures, depending on what sort of candles have been burning.  This will be taken into consideration as well in the restoration process. You can contact us for help!
Candle burning is a very common practice throughout the world.  However, we all must recognize the aftereffects and the best way to deal with them!