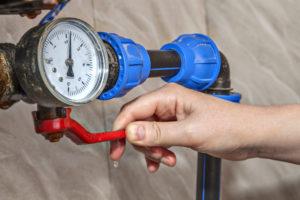 When Kansas winter temperatures rise and fall, it can be really hard on your home's water pipes. Sometimes, despite your best efforts in trying to protect your home against the damages that come with frozen pipes, bursts happen. And that's when you need to respond–and fast.
Understanding Frozen Pipes
While frozen pipes tend to be more common in older homes, the location of the pipe and the level of insulation surrounding it is really at the root cause. The other factor is, of course, temperature. When the mercury plummets to near record lows, water freezes. When this happens inside pipes, the frozen water expands, creating pressure that can lead to leaking or bursting. Frozen pipe prevention includes installing proper insulation and making sure the heat from your home keeps your pipes above freezing temperatures. If you're not sure what to look for specifically, work with a professional plumber to address any concerns.
What to Do When Pipes Burst
Despite your best efforts–or maybe just best intentions–pipes freeze and burst. Now what?
Shut off water: If water is NOT above outlets or electrical box – immediately shut of the main water valve to your home to reduce the damage to the area.
Power down:Water and electricity don't mix. Avoid a shock by powering down and unplugging electrical devices in the area where the water has entered. If there is standing water, be sure to wear rubber insulated boots when walking through the area.
Protect possessions:Remove belongings such as furniture, housewares, or clothing from the area to avoid excess damage to your possessions.
Call a plumber:Contact a certified, trusted professional to help you respond to the burst pipe. If needed, look for one that offers 24-hour service if the burst happens at night or on the weekend.
Contact a water damage restoration service:In the event your walls, ceilings or flooring are damaged by water, you may need to contact a water damage cleanup service, such as Lamunyon, to help remove the water, dry the air, and prevent mold and mildew from forming in your home.
Remove the water:The longer excess water stands or remains in your home, the more damage it can do. Do your best to use towels, buckets, mops and wet/dry vacuums to remove the water.
Run a dehumidifier:If not working with a water removal professional, it can be difficult to remove all the moisture from the interior of your home. In the closed room, run a dehumidifier to help dry the area out more quickly, being sure to empty the water tank on a regular basis.
Contact your homeowners insurance company:Depending on your policy, water damage caused by burst frozen pipes may be covered. Contact your insurance company and file a claim to have damages assessed and necessary repairs and recovery actions reimbursed.
Record the damage:Take photos and write down personal items and structural areas of your home that have been damaged by the burst pipe. This will help in your claims process, making sure you receive the proper reimbursements necessary.
Water Damage Services: Restoration, Cleanup and Repair
Whether you have a malfunctioning dishwasher, washing machine, refrigerator or water heater, a sewer line break or backup, a toilet or sink overflow, or a broken, frozen or leaky pipe, it's very important to call a water damage professional who can stop the water source, start water removal and structural drying before toxic mold begins to grow, and to begin the process of water damage repairs and reconstruction so that you and your family or business can get back to normal as soon as possible. The longer you wait, the worse it gets and the more that the process costs in time and money. If you have a water problem, call us now!