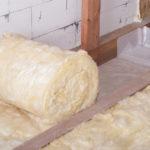 Types of Insulation
Among your options for insulation, you'll come across the following:
Batts and blankets: A common type used in residential homes, batts, and blanket insulation comes in rolls that are easy to carry and install. They may be made of fiberglass, rockwool, or cotton.
Blown-In or Loose-fill: To get into your home's tight nooks and crannies, loose-fill insulation is a fluffy fiber that is typically blown in using a machine. This version may be made of fiberglass or cellulose. 
Do You Have Enough Insulation?
 Without X-ray vision, it can be difficult to know if your home is properly insulated. However, there are a few indications:
Cost: If your heating or cooling costs have increased over time, the insulation in your home might not be adequate.
Temperature: Are areas of your home warmer or cooler than the rest of the house? While drafty windows could be to blame, your insulation is another prime suspect.
Age: Unless updated by previous owners, older homes may not have enough insulation, or the insulation may be less efficient than the products available today. If your home tends to run too cold in the winter or too warm in the summer, it may be a result of a lack of insulation.
Ice dams: Another sign of improper insulation is the formation of icicles or ice dams on the roof line of your home. If these form, it may be an indicator that warm air is escaping.
To make your home most comfortable and to help save on utility bills, consider having an energy audit of your home. An insulation professional can help evaluate your residence and determine if your home needs more insulation or a complete replacement.
What Type of Insulation Services Does Lamunyon Provide?
At Lamunyon Dry Out & Foundation Repair, we are a full-service insulation contractor and can provide blown-in insulation and rigid board insulation. We can properly insulate walls, attics, crawlspaces, basements, garages, and more. Servicing Manhattan, Clay Center, Salina, Junction City, McPherson, Great Bend, Topeka, KS, and surrounding Kansas areas and communities. Contact us today for a free evaluation and estimate.