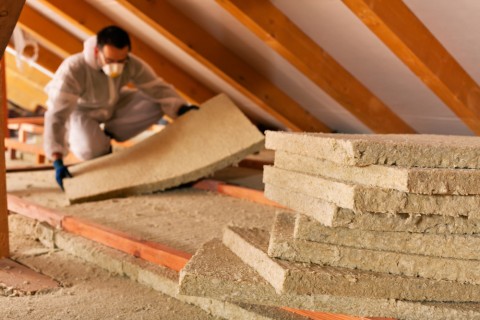 A properly insulated attic is a great way to keep down your home energy costs. It is also a way to make your home more environmentally friendly! The attic is one of the easiest places to insulate, which typically makes it an easy target for DIYers ready to tackle their next project.
If you've taken on the task of making weatherizing changes to your home during any season, chances are you've started by checking out the insulation in your attic or crawl space. Insulating your attic can help prevent hot air from leaving during the winter months and will keep the cool air inside during the summer! It's always beneficial to keep your attic insulation as up to date as possible.
Why Attic Insulation is Important
Insulation regulates the energy in your home, keeping the temperature at a comfortable level. Air naturally flows from warm to cold areas. During cooler months, the heat in your home will want to follow this natural path and try to escape into the cooler air – meaning rooms that are typically colder than the rest of your home.
Attics that are not properly insulated are typically cooler than other areas of the home, which means air escapes to the attic going out of the vents and directly outside.
Proper attic insulation will limit the air movement within the home. It effectively traps the air flow and keeps warm air inside where it belongs!
Not All Insulation is Created EqualEnter heading here…
​There are different types of insulation for different uses. Each insulation type has benefits that will keep the hot air in your home and each benefit should be considered before deciding which to install.
Batts and rolls are fiber insulation sheets that lay between wall studs and floor joints. This type of insulation can easily be cut to fit into virtually any space, and can work around things like pipes or wires. Batts and rolls can also be purchased in flame resistant options, allowing you peace of mind for the safety of your home.
Blow-in loose fill is fiber pellets or loose fibers that are blown directly into the fill area. Typically this type of insulation is used to fill in gaps and spaces that batts or rolls cannot reach.
Foam insulation is sprayed into walls and is generally used by professionals to fill in larger cavities using special equipment.
Hire a Professional to Inspect Your Attic InsulationEnter heading here…
​Homeowners tend to think that once their attic is insulated, it never needs to be inspected or looked at again. In ideal situations, insulation should last an extended period of time. However, even small changes in temperature or structure in the home can lead to changes in the insulation.
These changes can range from subtle to glaringly obvious issues, but it is important to have a professional inspect your attic insulation once a year.
At Lamunyon Dry Out & Foundation Repair, we don't just inspect your attic insulation. We look at all energy points in your home and do a  complete energy evaluation, allowing us to fix any energy problems quickly and efficiently. Our attic insulation services will help you reduce energy costs and keep your home warm during the winter months. Contact us today and let us help you keep your energy costs as low as possible!