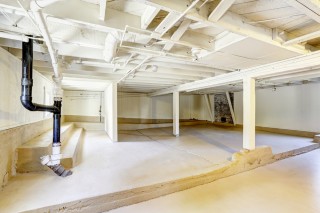 Leaky basements are nothing to ignore. Since they're below ground, basements tend to be the prime place for excess water to creep into your home. Puddles, moist walls, and damp air are all signs that your basement may be taking on water.
At Lamunyon Dry Out & Foundation Repair, we know exactly how to waterproof a Kansas basement to make sure water doesn't find its way into your home – causing major (or minor) water damage and costly repairs to your home.  
Steps to Waterproofing Your Basement
​Basements are waterproofed during the building process, but like most things, tend to settle over time and require repairs. That's where Lamunyon Dry Out & Foundation Repair comes in.
Getting your basement ready for waterproofing is dependent on the level of seepage taking place in your home. Seepage is the slow leaking of water inside your basement. You may notice this as water runs down your walls and moisture becomes visible on walls, flooring, and other areas of your basement.
When you hire Lamunyon Dry Out & Foundation Repair, we will take care of everything needed to waterproof your basement and keep the moisture out. Here are some of the steps we take to get your basement walls prepped for waterproofing.
We start with dehumidifiers. A dehumidifier is a common household appliance that pulls excess moisture out of the air, trapping it in a basin attached to the unit. Dehumidifiers range in size and power – and our experts will take a look at the size of your basement to make sure we have the right size, or sizes, for your space.
From here, we start looking for the actual cause of the water in the basement. Common issues that are easy to spot tend to be downspouts or gutters that are leaking too close to the basement walls. Improper grading in landscaping is also a cause for flooding and leaks, along with blocked drainage pipes. This is the biggest part of the dry out process. Once we find the issue, we can begin the repair process.
We will also look at any sump pump installations to ensure they are working properly. If you do not have a sump pump, we may recommend that you install one. A sump pump helps handle excess water on particularly wet days. Its sole purpose is to draw water from precipitation and draw it away from your home, keeping flooding and water damage away from your basement.
Equipment that We Recommend
​At DIY repair shops, you may notice that sealants and cement are often used to repair cracks and leaks in your basement. We don't recommend these methods, and we don't use them in our repairs! Instead, we recommend installing drain tiles (which we offer with a lifetime warranty!), and even different monitoring systems to stay in front of the leaks – all connected through WiFi!
Call In Lamunyon Dry Out & Foundation Repair 
Once the DIY jobs are done, it's time for the professionals to come in and do their work! At Lamunyon Dry Out & Foundation Repair, we have several methods for waterproofing basements and to create the ideal basement environment.
We work with water diversion systems that work with a multi-flow drain tile that is installed along the perimeter of your basement. This drain is filled with rock that holds a specific type of pipe, which directs water away from your walls and directly into your sump pump.
Our waterproofing will guarantee to keep your basement dry, and we believe in our product that we offer a lifetime warranty on our Drain Tile/Basement Waterproofing systems.
Visit our website for more information about our waterproofing services, and contact us today to schedule your waterproofing appointment now – don't let your water damage compromise your basement.