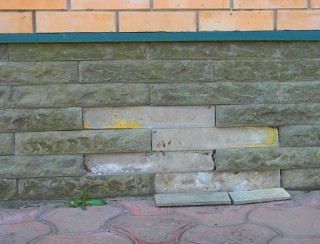 Your foundation is the literal groundwork of your home. If problems affect it, you risk safety, value, health, and appearance. What could start out as a small crack or a not-so troubling thin trickle of water could turn into serious structural and support issues if left unattended. Detecting warning signs early may be the best way to prevent minor damage form becoming more severe, and to do so requires understanding of what your foundation is trying to say.
The Faults in Your Foundation 
Regardless of your foundation type–be it a slab, crawl space, basement, or other–the stronger and more resilient it is, the less stress it means for you. And to maintain that strength means keeping a vigilant eye out to ensure any issues are resolved as quickly as possible. While you and your foundation may speak a different language, there are few common ways it will indicate when something needs your attention.
Wall cracks: Small cracks in foundation walls are common and usually not a sign of damage if occurring soon after the foundation cures. However, beyond a cosmetic concern, wall cracks in greater severity could be a sign of foundation settlement or expansive soils, both of which would require re- stabilizing your home's structure.
Floor cracks/uneven floors: If your concrete floor is cracked or sagging, or the floor is pulling away from the wall, the soil beneath your foundation may no longer be up to the task of supporting the heft of the concrete. To remedy this may require a lifting and re-leveling system to reinforce the foundation.
Bowing walls: Hydrostatic pressure created by soil holding water around your foundation causes a natural force on the exterior of your concrete. This could cause water seepage into cracks naturally formed in the concrete, as well as create enough pressure to cause walls to buckle, bulge, or bow. Removing the standing water pressure and bringing the walls back to proper shape is often done by using wall anchors, a wall support system, or a carbon fiber wall support. All of these methods have been proven to counteract hydrostatic pressure, and are cost-effective options for repair.
Crawl space sag: A good clue that the support of your crawl space is compromised is if interior floors are sagging, there are cracks in interior drywall, if your door and window frames are askew, or if the crawl space supports are sinking or there is a tilt. This issue can be addressed with additional supports, such as crawl space jack posts.
Water: Aside from internal causes such as burst pipes and problematic appliances, a wet basement is an obvious sign something is not right. The cracks mentioned above are one culprit, but water could also be finding its way in through mortar joints, window wells, tie rods, over the top of foundation walls, and floor and wall joints, among others. Following the trail of water to its source is the easiest means of detection. However, it's better if you can identify where water could come in before it actually does.   
 Foundation Repair Services
You'll be happy to know that most of the warning signs your foundation will give should be easy to see. That said, some risks are hidden from sight, especially if your basement walls are finished (and thus the foundation is not open to view) or the water is happening on the exterior below ground level. To keep your home foundation as strong and lasting as possible, schedule routine inspections with our skilled and trusted professionals. Guided by years of experience and tending to foundation issues of all kinds, we can help detect many issues from ever turning into big problems.
Our team knows how to repair any of these problems and get a system in place to prevent future damage so you can feel safe knowing your foundation is stable. We can repair bowing walls with a system of wall anchors, and install ultra-strong carbon fiber over wall cracks to prevent them from spreading. If you have a sinking foundation, we can use a foundation piering system to permanently lift the home back up, or if you've got sinking or settling concrete, we can use polyjacking  to raise it up to the original position. 
Lamunyon Cleaning and Restoration Services of Manhattan, Clay Center, Salina, Junction City, McPherson, Great Bend, and Topeka Kansas.