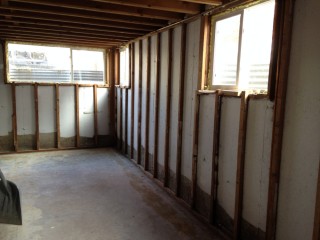 Basements and foundations are the most common areas for flooding to begin. As homeowners, we don't often think about waterproofing our basements or foundations any more than they already are. However, adding a few improvements to the lower levels of your home can have a lasting effect by helping to prevent long-term issues related to water damage.
Let's learn about the pros of waterproofing the basement and foundation of your home.  
4 Reasons to Waterproof Your Basement and Foundation
Floods and leaks will be less likely to strike your home and cause lasting damage. Flooding is a real risk to Kansas residents. Waterproofing your basement reduces the risk of flooding. When a professional waterproofs your basement, they install a variety of ways to keep water away from your basement, redirecting it away from your home.
If water finds its way into your foundation, it can begin to cause cracks and shifts in your home's structure. Waterproofing your basement can keep the foundation of your home from shifting and causing these cracks, leading to foundation issues and, eventually, larger structural problems.
Where there is excess water, there is mold. Keeping the water out of your basement means you are taking the right steps to keep mold away from your home. Mold loves to grow in dark, wet, warm places – which is exactly what your basement provides. If water seeps into the cracks in your basement due to lack of waterproofing, you could have a major problem to deal with – and potential health hazards for your household.
Waterproofing your basement keeps any personal items safe and dry. Most people use their basements as extra storage space. Keeping water and moisture out of the air and off the floor means your file boxes and personal belongings will remain safe and dry.
​How can Lamunyon Dry Out & Foundation Repair Help
​Since 1973, Lamunyon Dry Out & Foundation Repair has served Kansas residents suffering from water damage and foundation problems. We've seen every problem and understand how to fix the issues, but more importantly, we know how to prevent the problems before they happen.
If you find that your basement is flooding frequently, call us right away. Our Waterproofing team will begin by evaluating if your home is suffering from water damage and perform mold testing to ensure your home is not at risk of mold problems.
At Lamunyon Dry Out & Foundation Repair, we use the most up-to-date systems to keep water out and away from your basement. Read about our waterproofing services, and call us to schedule your consultation today.