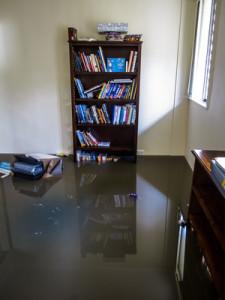 Water damage can happen anytime, but if you are proactive you can prevent many common causes of water damage in your home. Our appliances are leading contributors to water damage due to old or damaged connections, appliances in need of repairs, or improper uses of household appliances. Preventing water damage caused by appliances requires only regular maintenance and inspections and addressing anything that may be concerning before it becomes a major problem. Here are some things to look for, and what you should do to prevent water damage in your Manhattan home.
Locate Your Main Water Supply Shut-Off
To prevent any major water damage, you should know where your main water supply shut-off valve is inside your Manhattan home. Being able to quickly locate the shut-off valve and turn off the supply of water will prevent substantial amounts of water from damaging your home. The main water shut-off valve is usually in the basement, or on the lowest level of your home. It will generally be located on the wall closest to the street or if you have a well or other water source, it will be on the wall nearest the water source. Make sure you and your family know where the valve is located and how to turn off the water in an emergency.
Washing Machine Water Damage
The water supply lines for washing machines are always pressurized and commonly fail. Rubber hoses are at greatest risk of failure and should be inspected regularly for deterioration. At the earliest sign of deterioration, replace the hoses, preferably with a more resistant braided stainless steel hose that is less likely to fail.
Leaking Dishwasher Supply Hoses
Water damage from your dishwasher can happen slowly and often goes unnoticed, damaging your cabinets and floors hidden from view. Check drainage hoes and supply hoses under the sink for any leaks on a regular basis, and replace hoses that are worn or deteriorating. Also, make sure you keep your dishwasher gasket clean to prevent any leaks.
Water Damage from Water Heaters
Water heaters hold gallons of water, so its easy to imagine why water heaters are a common cause of water damage in homes. Water heaters also have a relatively short life expectancy, lasting about 7-12 years. Water heaters should be replaced when they begin to deteriorate, and if you don't have one already, a recovery plate should be installed beneath the water heater to capture and drain any leaks. While our household appliances can be a convenience, when water damage is concerned they can be a source of major inconvenience. Check regularly for leaks or signs of water damage near the appliances in your Manhattan home, and address any problems as soon as possible. If your home does suffer water damage, call the professional water damage technicians at Lamunyon Dry Out & Foundation Repair.