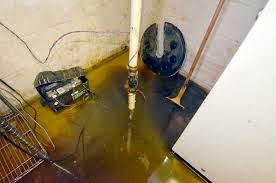 Did you know that you're responsible for the plumbing lines on your property, including the sewage main lines that run on your property connecting to the municipal sewer lines? That means that if there is deterioration, collapse, or obstruction, you are responsible for the maintenance or repair of these lines – and the cleanup that follows. It goes without saying that dealing with a sewage backup is something no one would want to deal with; however, it happens, and it can happen to you. It's a common problem, but there are ways you can act to prevent a sewage blockage or failure.
Common Causes of Sewer Line Damage & Backups
Aged Sewer System: Many sewer lines in the United States are older than 30 years, and many newer lines connect to older municipal sewage systems. Because of the age and constant strain on these systems, the older lines weren't built to withstand the demand that is currently being put on them. Therefore, due to the wear and tear and deterioration of these aged lines, obstruction is possible and can cause a sewage backup and overflow on your property.
Combined Pipelines: Some drain and sewage systems may combine sewage and storm runoff into the same pipeline. Because of this, an extreme storm can cause an increase of volume and debris that is collected in the line, causing a blockage that can cause a backup and overflow on your property. 
Tree Root Permeation: Plant roots can grow deep into the ground and can cover a vast amount of space. Tree and shrub roots seek moisture, making plumbing lines a very desirable place to get the desired moisture they seek. Plant roots can permeate the plumbing lines through cracks or joints in the line pipes and cause a blockage. 
Blocked City Lines: Blocked or clogged municipal lines on your street may cause a backup or overflow on your property. While the blockage may not be on your property, it can still affect your property and your neighbor's property as well. While there are some external forces that are beyond your control, it's important to be aware of the potential causes that can cause a sewer line backup and overflow. It may also be of interest to you to get sewage backup and/or water damage insurance coverage for your property. Most insurance companies don't provide sewage damage policies with traditional homeowner coverage. You can contact your insurance agent to get a quote, but most agencies have a nominal expense that can be added to your existing policy. If you've purchased sewage backup coverage, you'll want to verify that your agency hasn't discontinued or canceled your service, as policy changes may happen.
Professional Sewage Damage Cleanup
After the source of the sewage backup has been addressed, and the flow of sewage has stopped, extensive cleanup may be necessary and must be completed by a professional service. Sewage not only contains waste but is a breeding ground for bacteria, viruses, and fatal diseases. It's important to take immediate action in finding a professional to handle the cleaning and restoration services to protect you and your family's health from the hazardous material found in sewage lines. Call Lamunyon Dry Out & Foundation Repair to handle the mess. We offer 24/7 emergency services, and our technicians have the experience, resources, and technical training to safely and effectively remove contaminated materials such as carpet and drywall and repair your home to its pre-loss condition. For additional reading, click here to see an article from The Salina Journal about sewage backups.