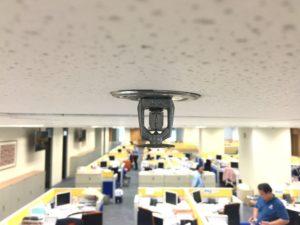 Fire sprinkler systems offer reliable and affordable fire protection to your commercial properties. Not only do sprinkler systems prevent lives and property losses from fires, but also save millions of dollars to business owners by way of tax deductions, code and ordinance compliance, insurance savings, and the ability to continue business as usual. But for as beneficial as sprinkler systems may be in reducing harm caused by a fire, the downside is the wet mess they leave behind.
Water, Water Everywhere? Not Really.
To prevent a fire from spreading and causing widespread damage, if not a total loss, the sprinkler systems springs into action as soon as a fire is detected. This typically occurs during the "flashover" stage, or when the fire transitions from the "growing" stage to the last stage–a fully developed fire. Sprinkler systems can address the specific area of the fire, preventing the spread. This may seem as though you are trading one catastrophe for another–a flood versus a fire; but the reality is properly functioning sprinkler systems are designed to reduce the amount of water used to put out the fire. In fact, a sprinkler system may use hundreds of gallons of water to douse a fire, while firefighters will use thousands.
Sprinkler System Water Damage
With that said, any water used indoors means you are left with a moisture problem that needs to be addressed. Sprinkler system water damage can include: wet drywall, carpeting, and other building materials; wet office or tenant materials such as upholstery, the development of mold and mildew, and standing water. Hiring a restoration professional is the first step to make sure all water damage is addressed and managed with skill to eliminate future damage. This service provider will assess the existing water damage and develop a strategy to return your property back to its original, non-damaged state. The plan includes:
Clearing out possessions: To avoid further damage to possessions made from wood, cloth, or other porous surfaces, they will be removed from the property and stored in a safe place until ready to return. Some items may need to be replaced depending on the level of damage and whether or not they are able to be restored.
Removing the water: Water pumps, water extraction equipment, dehumidifiers, and air movers are used to remove water efficiently and effectively.
Drying the area: Similar to removing the water, dehumidifiers and fans will be used to help make sure everything is thoroughly dry, in order to avoid mold and mildew from forming.
Repairing: When water damage weakens the structure of a building or drywall, or leaves permanent stains on carpeting and upholstery, restoring the property may require construction or additional cleaning services.  
How does Lamunyon clean up Commercial Water Damage?
We have the training, equipment and decades of experience to take care of water intrusion in your place of business. With hundreds of air movers and dehumidifiers, as well as two heat DryAir Trailers to speed dry, we can ensure that you will be back in business in no time. Lamunyon Dry Out & Foundation Repair strictly adheres to IICRC S500 guidelines for water-damage restoration, insurance loss assessment & evaluation, categorization of the water, professional drying methods, structural and content considerations, detailed monitoring of the drying progress and final inspection details. When you call us, a uniformed team of trained technicians will meet you on-site and thoroughly discuss the actions needed to bring your business back to safe environment. Contact Lamunyon Dry Out & Foundation Repair today for commercial water damage restoration.