Floods are often the culprit of home water damage, and even worse, sewer backup. And since flooding is more often associated with spring and summer, you may think you're safe during the winter season. Not so. While heavy rainfall and flooding is a common cause of sewage line problems, they are certainly not the only factors at play.
Sewer Backup Causes

It likely goes without saying that a sewer backup is a big mess. In addition to water damage to your home and personal possessions, sewage backup can also create health risks for you, your family, and your pets, as sewage contaminants are filled with bacteria, viruses, and toxic substances. Preventing a sewer backup is always better than dealing with the aftermath. And to do so requires a better understanding of sewer backups beyond flooding. Here are a few:
Tree root blockages
Structural defects to sewage lines and plumbing
Improper sewage line planning and installation
Broken pipes
Obstruction caused by items that should not be flushed down toilets
Leaks in the waste line
Frozen septic system
Blocked sewer vents.
Signs of a Sewer Backup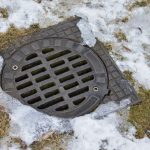 Even though you may understand what causes a sewer backup, it may seem impossible to know if one is coming since most of the indicators–blockages, defects, leaks–are hidden underground or within the structure of your home. While you might not be able to diagnose the actual problem, sewer lines do throw out a few warning signs when a backup is imminent.
Foul odors in the home, especially coming from drains.
Gurgling noises when you flush toilets or as water drains.
Slow draining tubs, sinks, laundry lines, and showers.
Winter Tips to Avoid a Sewer Line Backup
To avoid a sewer line backup, there are precautions you can take all year long, including: properly disposing of grease, not putting hard-to-grind items in the garbage disposal, avoiding the flushing of blockage-causing items, and checking on the working order of your sump pump–or installing one if you don't have one already. But there are also a few winter things you can do as well:
Clear snow from atop your sewer vents. Piled snow can create a vent blockage, which can cause sewer gases to release in your home.
Add water to drains. Sewer gas entering the home can also be avoided by added water to the the trap of less used drains or basement floor drains.
Keep the sewer vent from freezing. Install additional insulation or work with a professional to install a heating element in the attic to keep your sewer vent thawed.
Work with a plumbing or sewer professional to winter-proof your plumbing and assess your home's sewer line situation.
Sewage Cleanup Services by Lamunyon 
While attempting to restore damage yourself may seem like a cost saving measure, it can become a long-term expense in the end. Why? Well, trained water restoration contractors adhere to a strict set of remediation guidelines. Examples of such certifications are Clean Trust (IICRC), ASCR, WLI, or WLS. These indicate that the company and the technicians all have extensive training in the science of water damage, sewage related bacteria and health concerns, as well as clean-up using safety and preventative removal methods to ensure there are no future damage issues, such as mold or other contamination
Lamunyon Dry Out & Foundation Repair strictly adheres to IICRC S500 guidelines for water/sewage damage restoration, insurance loss assessment & evaluation, categorization of the water, professional drying methods, structural and content considerations, detailed monitoring of the drying progress and final inspection details. We also use EPA containment methods, professional disinfecting, as well as the removal and disposal of contaminated carpet, drywall and other items.
Lamunyon Cleaning and Restoration provides water and sewer damage services in Manhattan, Clay Center, Salina, Junction City, McPherson, Great Bend, and Topeka Kansas.