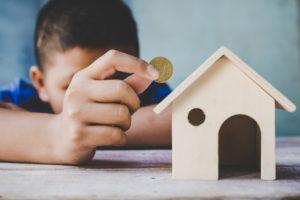 Bills and expenses come with owning a home, but being house poor wasn't likely your goal when putting roof over your family's heads. Instead, you probably planned on saving for retirement, stashing away money for your child's education, and having a little extra to take a family vacation now and then. But if the end of the month has you seeing more red than black, it's time to look for more ways to cut back. Some examples include clipping coupons so that you can make more affordable meals at home and thus reduce eating out as often. Maybe you swap a gym membership for running around the neighborhood instead. And of course, cable has got to go. Those are all great places to start, but remember being frugal isn't all about stripping your life of little luxuries. In fact, there's actually a way to potentially keep more in your wallet without having to sacrifice your current lifestyle. And it's as simple as having a home energy evaluation.
Money Blowing Away
Depending on where you live, you likely have more months than not when you're heating and cooling your home. And unless your home is newly constructed to be energy efficient, you could be letting money blow away each day. By bringing in a professional to conduct a home energy check-up, also called a home energy evaluation or audit, you can address issues where your home may not be operating as efficiently as possible. Common culprits include:
broken seals and air leaks
backdrafts from faulty ventilation
inadequate insulation
outdated appliances and HVAC units
energy-wasting lighting
drafty windows
A professional can help determine problematic areas of your home as well as offer a plan on how to make your home operate more effectively.
Beyond on Dollar Signs  
The obvious benefit to blocking leaks, upping the insulation in your attic, and putting your lamps on timers with better bulbs is paying less in utilities each month, but it doesn't stop there. By investing in your home's maintenance and energy efficiency needs you are also…
increasing the resale and marketability of your home.
improving the comfort level of your home by ridding it of common hot and cold spots.
creating a healthier environment, but blocking allergens and the potential for moisture-related mold and mildew from entering your living areas.
addressing areas of your home that could evolve into bigger problems, such as burst pipes and structural issues.
Whether you're looking to save money or simple take advantage of the many other benefits of having your home operate more efficiently, there's no better time than now to bring a professional to conduct a home energy evaluation where you live.
Kansas energy experts you can trust
As a member of the nation's leading energy services contractor network, Dr. Energy Saver by Lamunyon Cleaning & Restoration's technicians are trained at the Dr. Energy Saver training center. What makes us unique is that we will not only provide you with a complete energy audit, we also prioritize improvements and complete the upgrades identified in the energy assessment. 
Contact the energy experts at Dr. Energy Saver by Lamunyon Cleaning & Restoration today. Call us at (877) 346-4950 or contact us online to schedule a home energy assessment. We also provide fast, written free estimates to homeowners in Concordia, Fort Riley, Manhattan, Abilene, Junction City, Salina, Concordia, Maple Hill, Bennington, Assaria, Wamego, Milford and the surrounding areas.