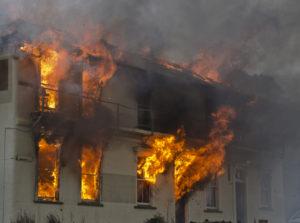 As a landlord or property manager, you have a long list of roles and responsibilities. Rising to the top of the list–above repairing leaky faucets, quieting noisy neighbors, and collecting monthly rent–is tenant safety. The units you lease to renters are homes, and while a large eat-in kitchen and balcony with a view are great selling points, tenants ultimately want peace of mind first. Supervising a building and conducting routine maintenance are part of the safety equation. After all, the more preventative measures you take can help decrease the possibilities for hazardous and damaging situations to both renters and your property. But keeping your building in tip-top condition only goes so far. Accidents happen, and the outcomes can be critical. Among the most common damaging household accidents is fire. Households can expect to average a home fire every 15 years, according to the National Fire Protection Association (NFPA). In 2015 alone, 95,000 fires occurred in apartment structures, which the NFPA reports resulted in 405 and deaths and 3,025 injuries that year.
Apartment Building Fire Loss Prevention
Loss of life and injury are reason alone to prioritize apartment building safety. Add on the high costs associated with such damage, and the more you can prepare your buildings and your tenants, the better. When fire does ignite, getting your residents out quickly and safely is key. Installing fire alarms, fire extinguishers, smoke detectors, well-lit exit routes, and an automatic sprinkler system are a must. But they aren't a substitute for a well-designed fire escape plan.  
Create a Fire Escape Plan
The American Red Cross says on average, a resident only has two minutes to escape his or her home in the event of a fire. If you have tenants living on upper stories or residents with mobility issues, two minutes can pass by in an instant, leaving renters in harm's way. To help, use the following tips in your apartment building fire escape plans to assist residents in escaping their units with little to no risk of injury or harm.
Map it out: Install fire escape maps in each apartment unit so residents know all of their exit options in advance or with a quick look. Include on the map a safe area outside where tenants should meet.
Two ways out: Make sure every room in each apartment residence has two ways out, be it via doors or windows.
High level options: For apartment buildings with higher levels, install or encourage tenants to purchase commercial evacuation ladders for each unit's bedroom. The ladder attaches to the window frame, allowing residents to climb down the side of the building toward safety.
Practice: Conduct fire drills with residents at least once a year, making time to answer questions or respond to concerns as needed. Cover fire prevention tips residents can take in their own homes to further prevent damages.
Light the way: In addition to exit signs, make sure hallways and lobbies are well-lit so that tenants can see where they're going even if smoke is present.
Consider mobility issues: For wheelchair-bound residents or those who have difficulty with stairs, consider installing an emergency evacuation chair or "stair chair" which can maneuver down stairs when elevators are not an option. Work with this individual one-on-one to make sure he or she understands how to operate the chair and determine whether or not a buddy system with another tenant may be needed.
Every apartment building is unique and comes with it's own set of needs. Partner with your local fire department to create the most comprehensive fire escape plan and ensure the safety of your tenants and property.
Fire and Smoke Damage Manhattan & Surrounding Kansas Areas
Lamunyon Dry Out & Foundation Repair provides fire damage and smoke damage cleanup and repair services throughout the greater Manhattan area in Kansas as well as Salina, Junction City, Topeka and surrounding areas. In addition to major restoration efforts, we provide immediate preventative efforts to help you move forward immediately after your fire or smoke incident.
Our Fire Damage Services Include:
| | |
| --- | --- |
| Smoke & Soot RemovalWater ExtractionWall and Floor CleaningDecontamination & DeodorizationClaim Inventory Service | Contents Pack-Out, Cleaning and StorageMold and Mildew Cleaning / TreatmentDuct Cleaning (where applicable) |
Call or Contact Lamunyon Restoration for expert fire damage restoration services.