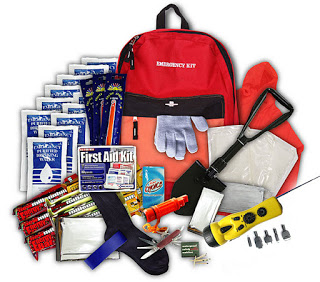 Each year millions of people are affected by earthquakes, tsunamis, hurricanes, tornadoes, and floods.  Since natural disasters occur unexpectedly and can affect any one of us, it is wise to be prepared.  Some things we can do in advance of a disaster include planning where to meet if family members get separated, and who you will notify of your whereabouts.  We can also assemble a store of emergency supplies.
You may need to survive on your own after an emergency.  This means having your own food, water, and other supplies in sufficient quantity to last for at least three days.  Relief workers may be on the scene, but they can't reach everyone immediately.  You could get help in hours, or it may take days.  In addition, basic services like electricity, gas, water, sewage treatment, and telephones may be cut off for days or even longer.
The following is a list of basic supplies you may want to put in your Emergency Kit:Water– One gallon of water per person per day for at least three days, for drinking and sanitationFood– At least a three day supply of non-perishable foodBattery-powered or hand crank radio and a NOAA Weather Radio, with extra batteriesfor both.Waterproof flashlight and extra batteriesFirst Aid KitWhistle to signal for helpDust mask– to help filter contaminated air and plastic sheeting and duct tape to shelter-in-place.Moist towelettes, garbage bags, and plastic ties for personal sanitation.Wrench or pliers to turn off utilitiesCan opener for food (if kit contains canned food)Local mapsCell phone with chargers.

Additional Items to consider:Prescriptions and glassesInfant formula and diapersPet food and extra water for your petImportant family documents in a waterproof containerCashFirst aid bookSleeping bag or warm blanket for each personComplete change of clothingFeminine hygiene itemsToilet paperMatches in a waterproof containerPaper and pencilMess kits, paper cups, plates, and plastic utensils, paper towels.
Source: www.ready.gov