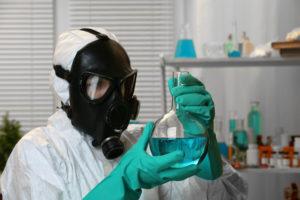 When you became a property owner or landlord, you likely never expected your life to feel like a day on the set of Breaking Bad. That is, you probably never thought the space you'd live in, rent out, or run your business from would've been previously occupied by a methamphetamine laboratory, also known as a "meth lab." But the truth is meth labs exist all across the country, with the 2014 total reaching more than 9,000 labs, dumpsites, and chemical and glassware seizure sites, according to the United States Drug Enforcement Administration (DEA).
What is a meth lab?
Meth labs are where methamphetamines, also called "meth," "speed," "crank," "crystal" and "ice," are made ("cooked"), stored, or used. This powerful drug affecting the central nervous system is man-made, and the production typically takes place in illegal laboratories set up in homes, apartments, lodging rentals, office building, and abandoned structures throughout rural areas, small towns, large cities, and suburban neighborhoods. While it's up to the DEA and other law enforcement officials to shut down a meth lab, including removing equipment and chemicals, residual contamination means you're the one left with a hazardous mess to clean up.
What are the risks associated with a shutdown meth lab?
Meth is made with a variety of different harmful chemicals that when mixed together can result in toxic residues, fumes, and vapors. Long after the meth lab is shut down, walls, floors, and other surfaces in the building can continue to be contaminated until properly cleaned. These potentially deadly chemicals can be inhaled, ingested, and absorbed through the skin leading to adverse health effects if exposure occurs.
How do I know if my property once used as a meth lab?
Unlike lead paint and black toxic mold, meth labs rarely have to be legally disclosed during the real estate transaction process. Given how many properties may be contaminated prior to selling and the risks involved with exposure, it's important to approach new properties with a "buyer beware" mentality. Here are some warning signs to look for:
Strong chemical odors, such as ammonia, ether, or acetone.
Windows blacked out or covered by aluminum foil, plywood, sheets, blankets, etc.
Unusual behavior of tenants often denying access to the dwelling.
Renters who pay their landlords in cash. (Most drug dealers trade exclusively in cash.)
High foot traffic of people coming and going, especially at night.
Excessive trash including large amounts of antifreeze containers, lantern fuel cans, Heet (gasline antifreeze) containers, red or rust stained coffee filters, drain cleaner, blister-packs from cold medicines, matchbooks, lithium batteries, empty salt containers, microwave ovens, camp stoves, and duct tape.
Storage of glass containers, such as Mason jars, lab beakers, etc.
Propane tanks with corroded valves.
Secretive/protective area surrounding the residence (video cameras, alarm systems, guard dogs, reinforced doors, electrified fencing).
My property had a meth lab. Now what?
Given the hazards involved with meth-making chemicals, it's best to leave clean up to the professionals–restoration and remediation experts skilled and trained in proper environmental techniques of hazardous waste removal and cleanup. If the suspected area has not yet been cleaned, avoid entering the space unless absolutely necessary. When entering, always be sure to wear protective clothing, eyewear, gloves, and face masks.
Servicing Abilene, Clay Center, McPherson, Great Bend, Ellsworth, Hays, Salina, Russell, Manhattan, Junction City, Topeka, Wamego  and surrounding KS areas.