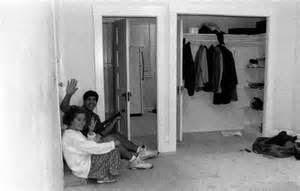 When you first head out on your own, insurance isn't always high up there on your priority list.  You'll often look for the cheapest rate; it doesn't matter what sort of insurance it is.  Is that the smartest thing to do?
It depends.  Educate yourself first, and then make a decision based on your checkbook and possessions. 
ACV will only pay for an item's depreciated value rather than the full replacement cost.
For example, Your couch burns up due to careless smoking.  You paid $700 for it ten years ago.  ACV will apply deductions for depreciation of the piece by age and condition.  If they figure it's just worth $100 now, that's what you will receive. 
Replacement Cost trumps ACV
Replacement cost terms mean the policy covers a piece of property for the amount it will cost to replace it with a comparable one, without deducting anything for depreciation.  Depending on how many valuables you have, it might be worth paying a little more to get the upgrade.  Especially with electronics, the actual cash value can be laughable.  Look how fast items are considered outdated! (Walk outside the store!)  If your laptop was stolen and you spent $2000.00 for it several years ago, it's now actually worth far less.  It doesn't matter what your receipt says; you'll likely get a check for $700 or so; finding a comparable one may be a challenge!  So Replacement Cost, in this case, would pay the entire amount necessary to replace the computer with a comparable one – much better!
Make sure your insurance coverage works for you
When speaking to an agent, it's so important to be absolutely clear about the kind of policy they're trying to sell you.  Remember, Replacement Costs will cost a bit more than ACV, so it's possible that limited coverage of your possessions paired with complete coverage of your dwelling makes the most sense.  Others may choose to take Replacement Cost all the way around. Take an inventory of your possessions and decide what's right for you and your budget.  Whatever policy type you pick, shop around!  Speak with several agents and/or companies to verify that you're receiving the best rate.