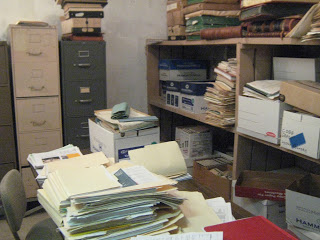 When people suffer the loss of their homes and possessions in a tornado, flood, or fire, it is often the treasured family photos and documents that are missed the most.  Fortunately, today there are many options for ensuring that these family records are not lost forever. One of your best bets will be to keep the originals or copies in a safe deposit box.  If that isn't an option for you, a heavy-duty metal fireproof box kept on a high shelf can also work.  It may be wise to keep the copies in a separate location from the originals so that if one set is destroyed, the other will be safe.  Keeping them at a friend's or relative's house may be a viable alternative.
Another way to preserve your documents is to scan them into an electronic format that can be kept on a CD or external hard drive.  There are also many websites today that offer online data backup services, which provide an "off-site" source to store your digital documents so that you can easily retrieve them with an Internet connection in case your originals and your external hard drive are destroyed. 
The following is a list of some documents you may want to include in your "Safeguarded Documents" file:
Family photos, home escrow and sale documents, income tax returns (seven years worth), and W2sCopies of birth certificates, marriage licenses, adoption documents, divorce decrees, citizenship papers, green cards, social security cards, and driver's licenses, list of investments, bank accounts, and credit card numbers, along with contact phone numbersPassportsMilitary discharge papers, Your willCar titles, insurance policies, and registrations, Deed to your house, mortgage, and insurance documents, A household inventory with photos
If the worst does happen, a great tip is to freeze wet documents and photos as soon as possible (mold begins to grow in 48 hours) until a determination can be made if it is possible to restore them.  It is also possible to get copies of your last 7 years of tax return information from the IRS by filling out form 4506, but it will cost you $57 per copy.