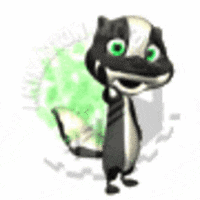 February: Winter's last hurrah, Valentine's Day for this part of the world, and mating season for skunks!
For those of you living in urban areas, skunks are part of the landscape. Unfortunately, in their quest for love, they wander around more at night. And for those of us with pets, it can be a precarious time of year!
Sunday Morning, 5:30 a.m.
Baxter, our 2-year-old boxer, wakened me for breakfast. Afterward, his routine consists of letting himself out through the doggy door, coming back in and going back to bed. He did this, but with the addition of gagging and choking back into our bedroom! I jumped out of bed, initially thinking he was sick…and then the horrible smell hit. He had been skunked right in the face! Talk about bedlam! My husband and I rushed he and his sister (who had been outside with him) into the attached garage, jumped into street clothing, and while Ezra tried to round up towels and a "bathtub" of the proper size, I ran across town for hydrogen peroxide and Dawn dish soap. It was a terrible way to begin a quiet Sunday morning! (Needless to say, we didn't even have coffee until around 7!) The research I'd done last year on pets bringing odor into the home (a fortuitous choice?) was something I checked right away, and I remembered the value of products like Febreze or Renuzit Odor Neutralizers. Wow! Immediate relief for my nose! Note: These are just a temporary fix, though. You will have to either clean everything the dog touched, air out the house for days or just get used to it in the meantime! (or maybe all three to be honest!)
A friend on Facebook suggested using a product like Nature's Miracle, Skunk Odor Remover. My blog had mentioned products like this and how they will neutralize the odor, but no names were given. I found this one at our local farm store (Orschlen's) for $5.99 for 32 oz. You can use it directly on your pet, laundry, and non-machine washable surfaces. The oil is tough stuff, and regular soaps will not remove the odor. I found this to be true when Baxter rubbed his foaming mouth up against my bare arms. I had to shampoo my arms three times with the peroxide/Dawn/baking soda mix to get the odor off. 
I'd like to hear from any of you and your solution to this stink problem!  The Nature's Miracle, as well as the peroxide formula, will stay on hand for the next few months, that's for sure!  Let's hope this next Sunday will follow its usual way:  QUIET with NO DRAMA!