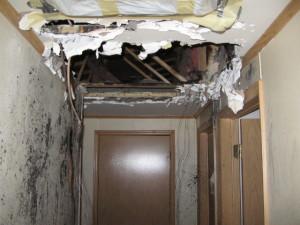 A fire is a traumatic experience and can be very devastating for homeowners in Salina. In addition to the concern of getting things repaired, you are more than likely also troubled by the things lost. Every hour spent restoring your home back to pre-fire condition is an hour of lost time for other things. While the devastation often appears to be insurmountable, knowing what to do and what not to do will help you get through this challenging time. There are things you can do after a fire that can help reduce your losses and speed up the restoration process. And while these things will help with your fire loss, the best advice we can give is to hire a fire damage repair company, as this will help reduce your total losses while getting you back on your feet as soon as possible.
A Few Things You Can Do
Although the fire may have only affected one area of your house, smoke can permeate a larger area. Ventilate your house well by opening windows and running fans. Airing things out will make your cleaning efforts more effective.
Take inventory and make a list of all items that need replacing. Take pictures of the damage as well. This will be helpful for insurance claims and also for the fire investigation authorities.
If the power is out, empty your refrigerator and freezer.
To prevent odors from building up inside the refrigerator, prop the doors open.
Change the filter in your air conditioner. A great deal of soot will have likely built up there following exposure to smoke damage.
Launder clothing and other machine-washable items. A mild alkaline cleaner will help to neutralize the acid in the soot. For fine clothing opt for dry cleaning.
What You'll Want to Leave to the Professionals
Fire damage repair is something you should never attempt to handle without a professional's assistance. Even if you do not have insurance coverage for fire damage, it is still best to hire a professional fire damage repair company to handle the major cleaning, repair, and restoration necessary for your home, as they have specific equipment and expertise that enables them to restore your home as quickly and as safely as possible. Lamunyon Dry Out & Foundation Repair provides emergency fire damage repair in Salina and North Central Kansas. Contact us today to learn more about our restoration services or to get an estimate.